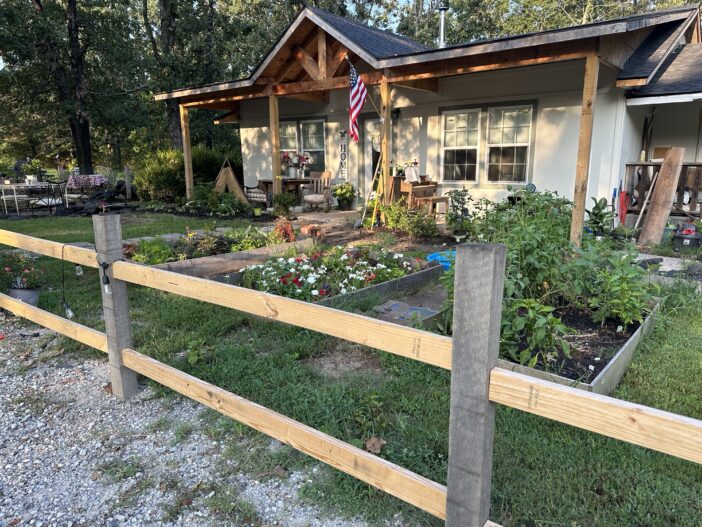 Renovations done by the family in a cottage are not for the faint of heart. The televeision shows spend sixty minutes showing you what 1000 hours cannot accomplish by an owner doing it themselves. Thankfully, we didn't expect our experience to be a HGTV one. My last table in the yard could fit 24 bodies…this cottage could not hold 12 much less 24 inside, so outside became my focus.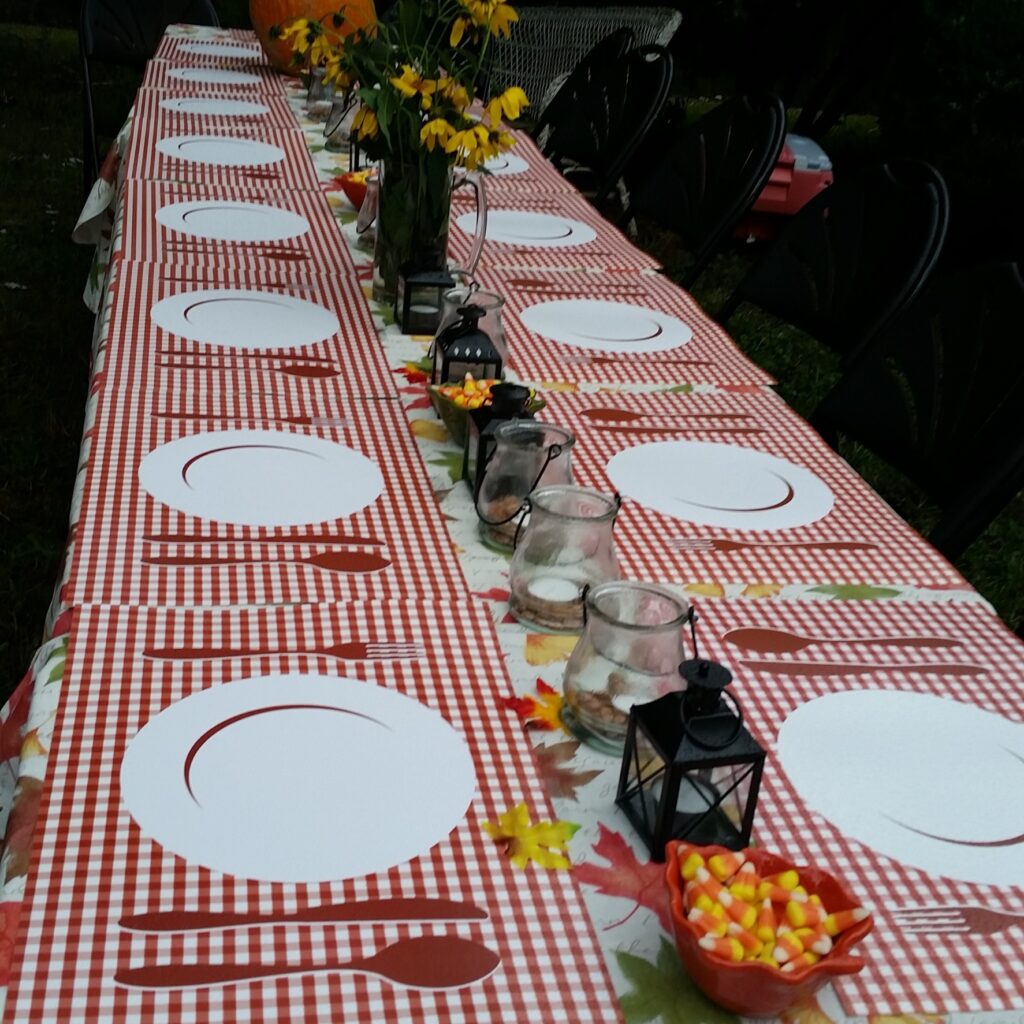 This summer was our third summer in the cottage. We moved into the cottage August 15th of 2000. We signed paperwork and began the process on July 15th, uninhabitable, no water in the home and termites had eaten their way through all the joists, and most of the walls of the back and side of the cottage.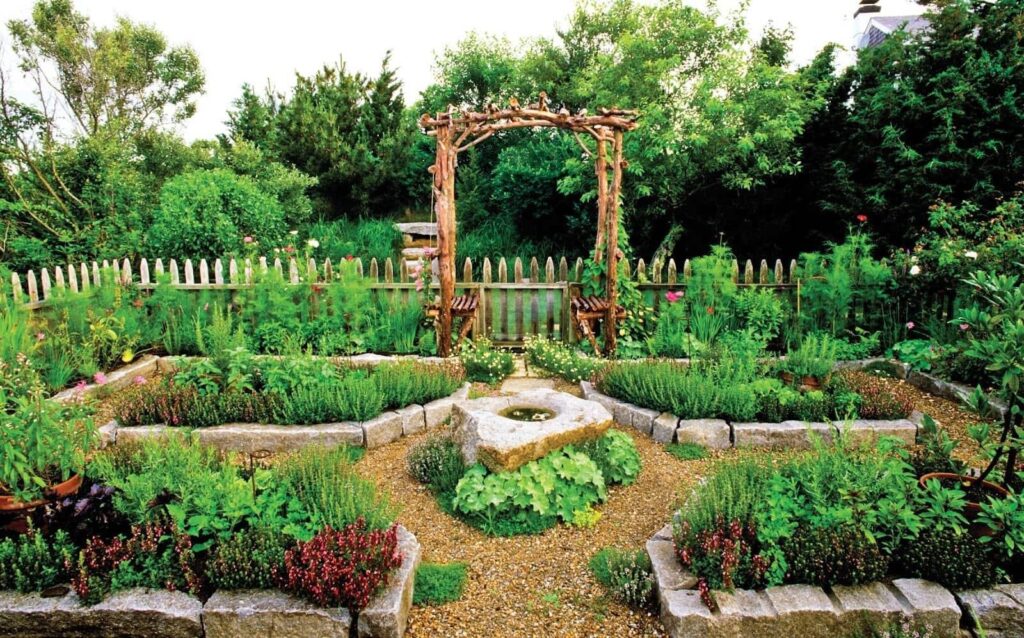 This summer we embarked on beginning defining some outdoor spaces. Personally I couldn't look at two acres of spaces outside and begin to figure out how to make it functional. I did what I knew to do…defined a doable, small space and began to dream. The inspiration picture I first found was perhaps lofty, but it served its purpose, it helped me dream the space into reality. I'm much more about usefulness than simply color, so the concept of a courtyard garden had to produce more than beauty to make my heart happy.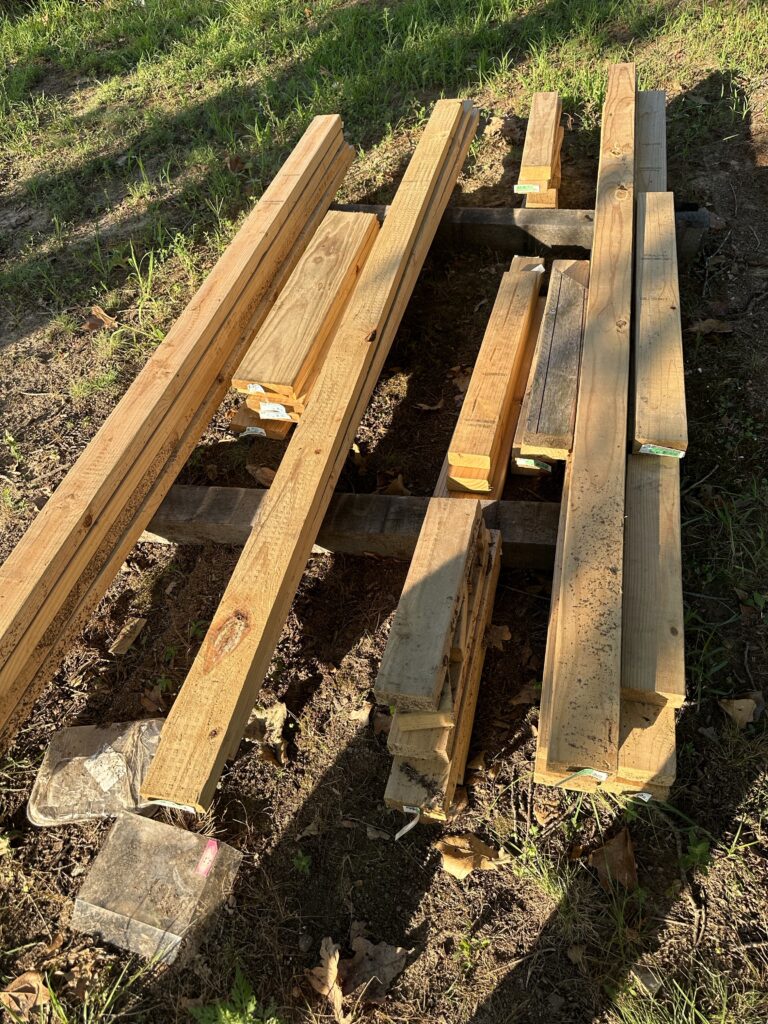 My favorite spaces have defined areas with purpose. I thought of our travels to Bethlehem, Pennsylvania and how courtyards in the historic neighborhoods were sometimes outside of the homes in the front yards. I started looking online and off at how cottages could be landscaped, how we could use container gardens to build food plots, and how we could use an outdoor room to align more people at our table. (The cottage is 1000 sft and I like to gather hearts round the table like my friend Leslie (feetundermytable.com)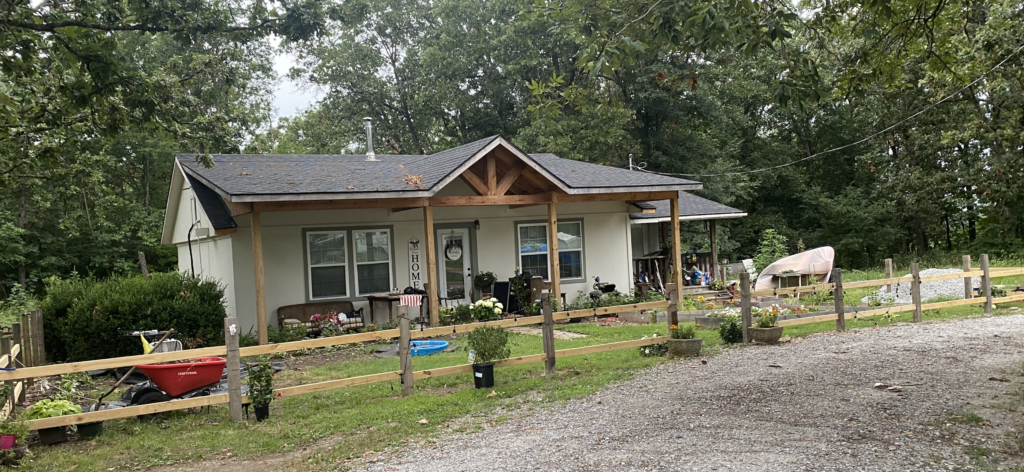 The first hurdle to overcome was realizing that a courtyard space complete with fence, above ground gardens and hard scape would be a multi-year process. We build with income earned, not savings burned. It turns out that my Cadillac tastes continue in the garden spaces as well. My friends at Possum Holler raised beds were build with concrete blocks covered by native stone with sitting spaces…that looked right to me…but it will take time to have that level of garden (my friend Arthur has invested fifty years or so in his) and so we began with wood purchased from a reclaimed project of railroad cars, fence posts reclaimed from the floor of an eighteen wheeler bed, and a good amount of imagination.
I'd like to say materials were purchased and we got it up in 2 weekends. The truth was more we purchased the wood in fall and we got the fence up in April. 42 post holes, concrete and labor (Feller's) take time. It turns out that encouraging, fussing, nor pouting do not hasten his work. Who knew!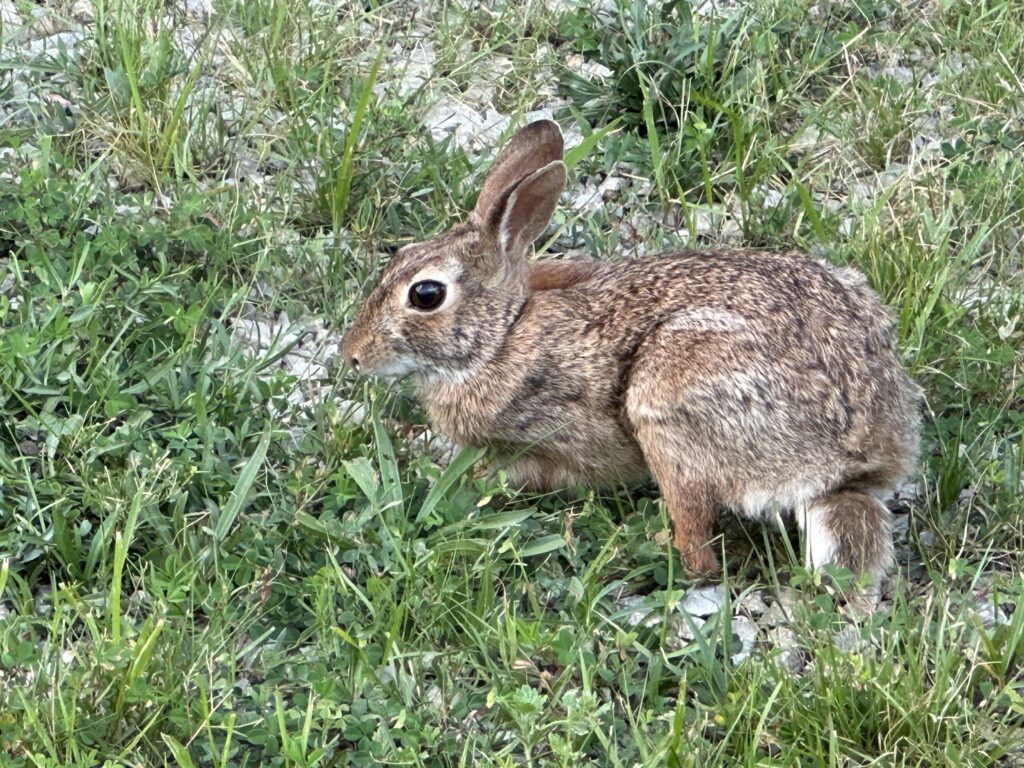 The joy was that in taking time we were able to study, change, and re-align how and why we are doing this. The courtyard wasn't for looks, it was for several other reasons: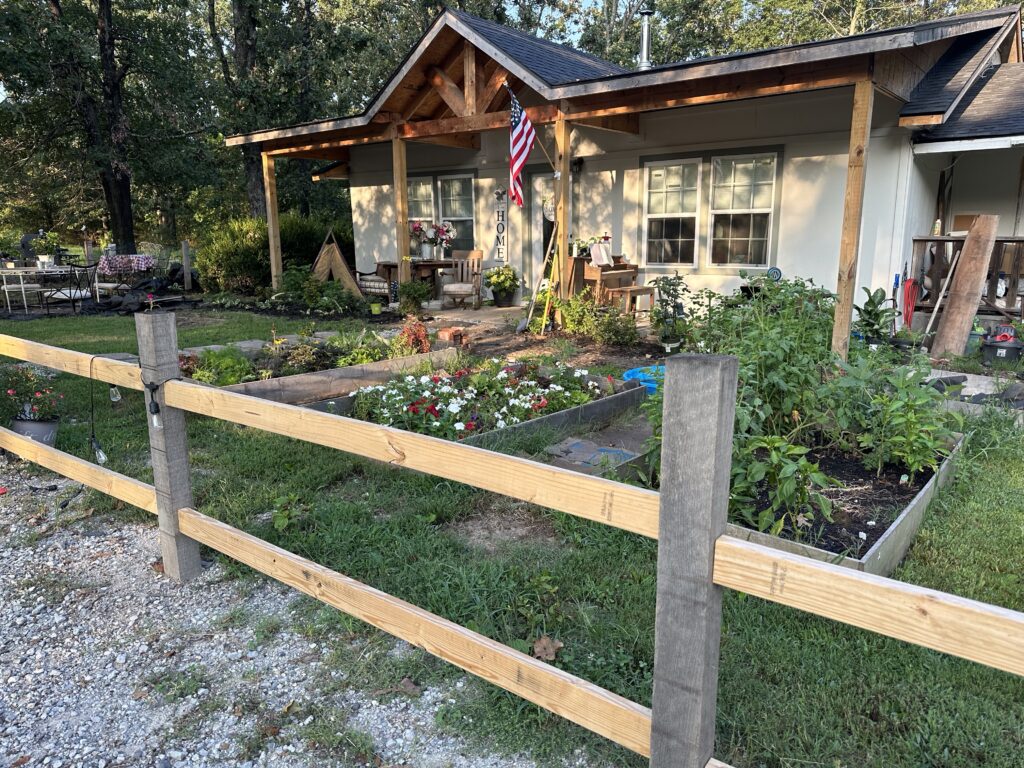 A. To secure the front of the cottage from visitors with one more layer of gate to open. We are 8 miles from support if someone comes to the door that has intentions other than delivering boxes. The courtyard defines the space at night, aligns the space for flashlight or spotlight and gives this work-from-home bride a little security.
B. It gives me literally a space outlined to play with. A new outdoor room that will grow as we can invest in it. Just outlining it with the fence posts changed the way I consider the space.
C. It allowed for new processes for planting. I brought in 3 beds that are 4 foot by 8 foot, two that are 4 foot by 4 foot and we lined the fence with 3 feet by 134 feet of bedding space for growing things. I'm a novice gardener, but even I knew that could translate food, berries and beauty. Pamela Crawford, the container gardener genius, had taught me in her books that I can, anyone can, grow beautiful containers of vegetables, flowers, and food! I once built a website for her container garden books and I adore her to this day.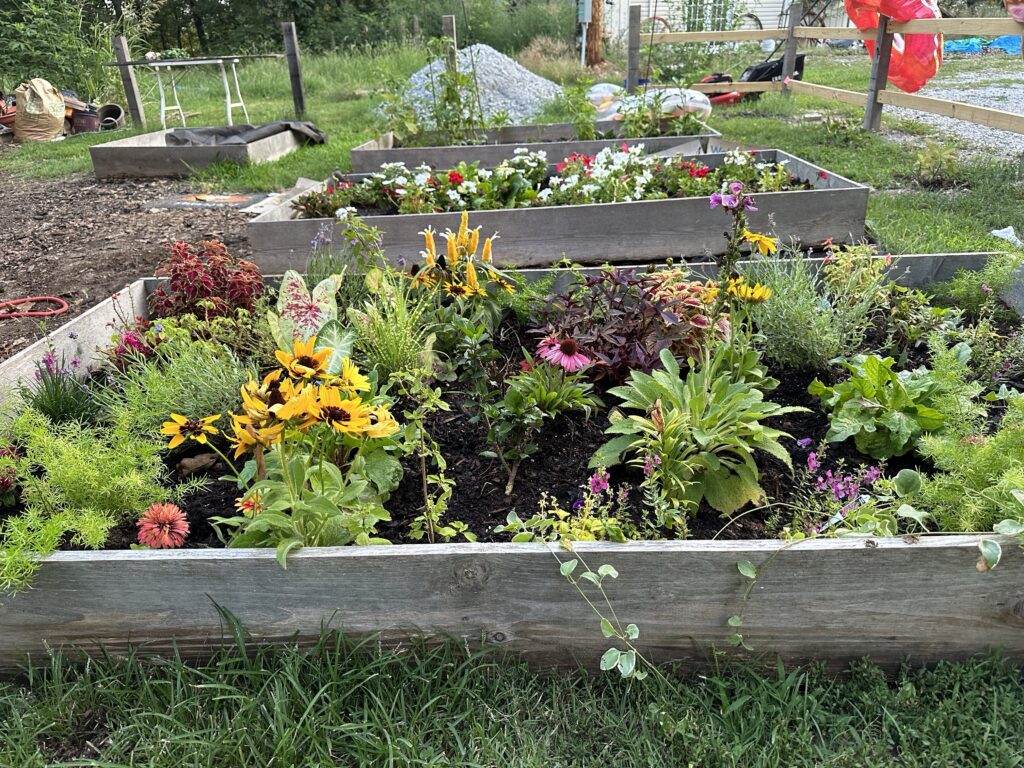 We are excited to say, the plan came together for year one's goals. We are missing gates (looking at you Jim Honold for you've ruined me for a simple gates now) and we'll be adding hardscape during the winter, but we had a grand experience beginning a new chapter of Redbird Cottage and the Sweetieland experience.
It was so delightful to prepare food out of our front yard garden. To pick flowered and make baskets out of the plantings. The process is messy, it's not a home beautiful garden but it surely decorated my face with smiles and joy this summer.