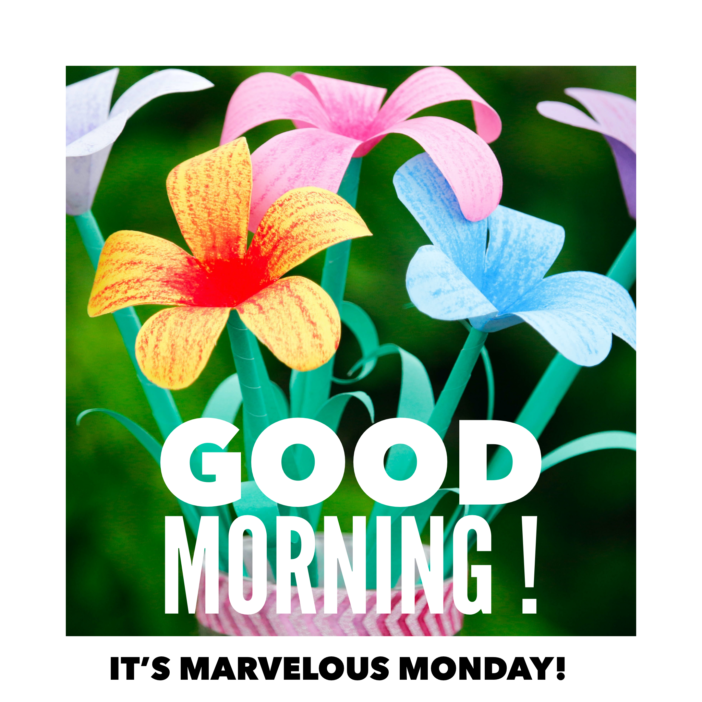 Holiday weekends are just the best, aren't they? Whether it is a three-day weekend, a family gathering, a holiday to honor someone, or an experience the one thing you can count on after a holiday weekend, is a need for a marvelous Monday momentum to be ready for the week.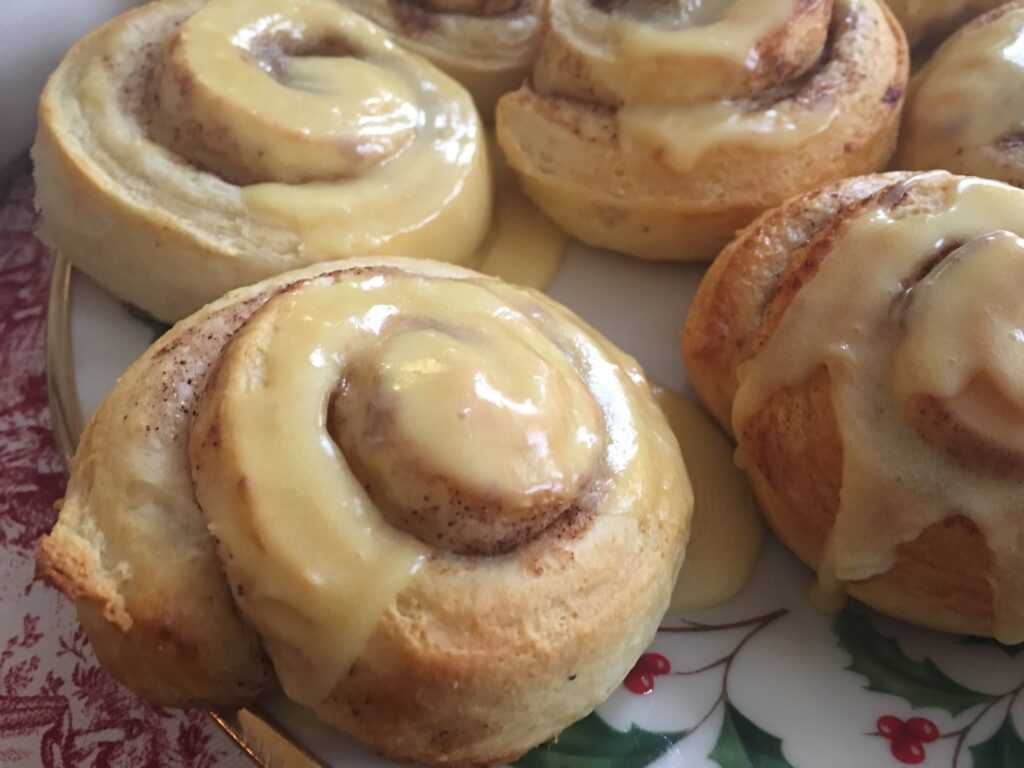 If you were a quiet observer (because believe me, if I knew an inspector or observer was watching, it would be "Katie bar the door") this weekend you might have witnessed:
an ancient cottage, well not exactly ancient, but a renovation in action that does not involve a new build 6 weeks and done.
a fence project that perhaps was just started with posts concreted in the project, yes let's assume it was just started this week, see that already feels better, we accomplished posts!
plants, blooming plants, blooming all over the yard landscape, unfortunately, most were NOT planted IN the landscape but ON it. (again, artfully arranged, but you know…details, they aren't planted yet.
A lovely blue tarp, you know the kind that is used in an emergency, typically for less than a few days, that perhaps is the owner's view of how to imagine a swimming pool or an ocean in the yard
and the lovely au natural edging brought to you by too much rain and not enough weedeater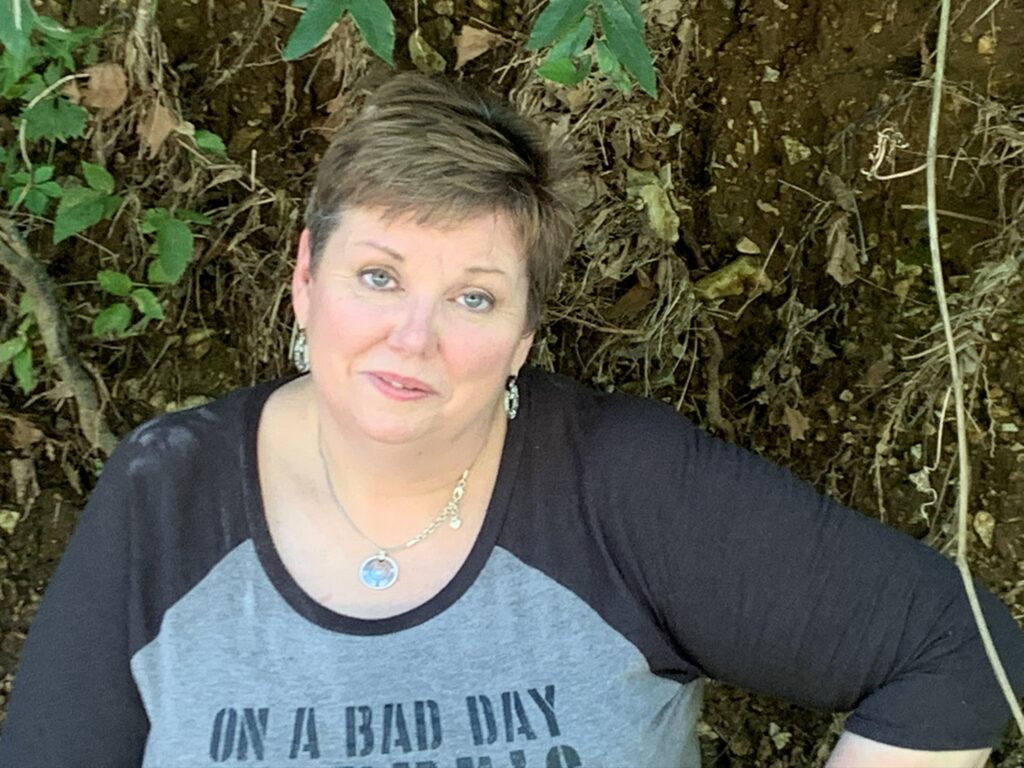 As a casual observer (no judgments right?) one might think something tragic was happening to the family living there. The Oklahoma storm systems blew through? Perhaps a tornado? A murder scene (mice don't count) Maybe a pack of wild banshees ran through…a sale at Dillard's occurred and the crowds stampeded?
Renovations are not for the faint of heart. Repeat after me: "Renovations are not for the faint of heart" Everybody now
"Renovations are not for the faint of heart"
You see welcome to story time…Once upon a time, there was a Sweetie who lived in a tiny apartment, a condo, a tacky brown house, an antebellum home and later a new build home…and they were.lovely. She had friends with great taste who came and staged the places, and the houses were in urban areas where a fabulous miracle could be purchased every week…a band of jolly folks who swooshed into her "just so" home life and made it "Just amazingly clean" and swooshed back out. It only took money! Who knew? Sweetie had learned early on that if one worked, the American way, yes? One never ever had to be confused by sorting laundry again. There had been that unfortunate incident as a child where she learned that white doctor coats and red sweatshirts laundered together did not make her father proud that she could make pink. It was a similar story to her brothers learning that ink spilled in Pappy's shirt drawer does not make Pappy happy. She decided at a very young age that babysitting for income was preferable for sorting, folding, hanging, and putting away laundry.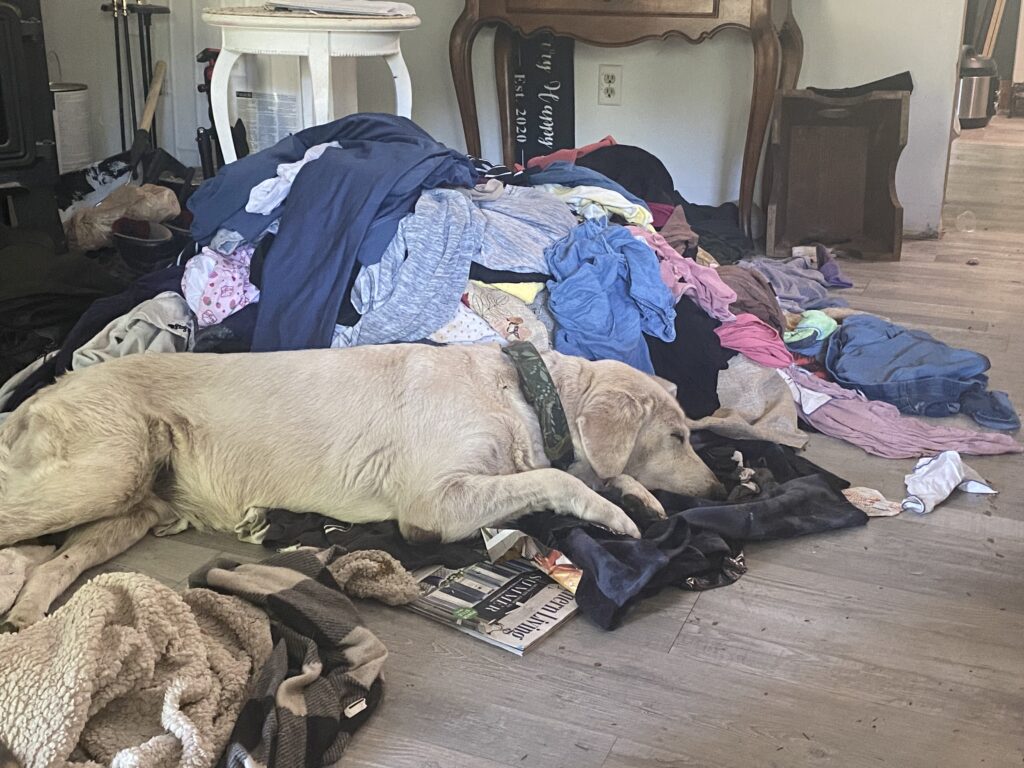 Back to the cottage. If you had been a casual observer, you might consider that a bomb went off, and a new geological site had erupted smack in the middle of the said Ozark cottage. In fact, you might think that an erupting volcano had erupted laundry, not lava. If you were casually observing.
Never mind the detail that it had looked that way for almost 6 months, the Oklahoma weather pattern on Sunday officially made most of the area a hot mess. Who is to say that isn't what caused the ruckus and the explosion as twisters, 90-125 mph winds, and hail hit the area? Never mind that our cottage was truly blessed and not damaged by the winds, hail, or caused scattering of hot mess throughout the inside of the cottage. Oklahoma storms are known to pop out of nowhere. Who is to say that a twister didn't go room to room in the cottage and exit back to the sky? Could of happened. Maybe. You really never know about Oklahoma weather.
Thankfully no one was injured at Redbird Cottage, unless you count Sweetie's injured pride when a holiday came and went and the hot mess only multiplied. It was an easy fix, what else would you do when a rare twister that only directly hit the interior of the cottage came in the storm system? You get reservations out, far enough from home that one has to actually MEET there so there's no chance of said situation mortifying Sweetie or becoming the 8th wonder of the world.
Back to today…a holiday, a third day of the weekend. I need momentum like a duck needs water. (cue music as she looks around at THESE scenes from a horror flick airing in a cottage, obviously not THE cottage…well…perhaps…like THE cottager…okay, it is THE REDBIRD COTTAGE …)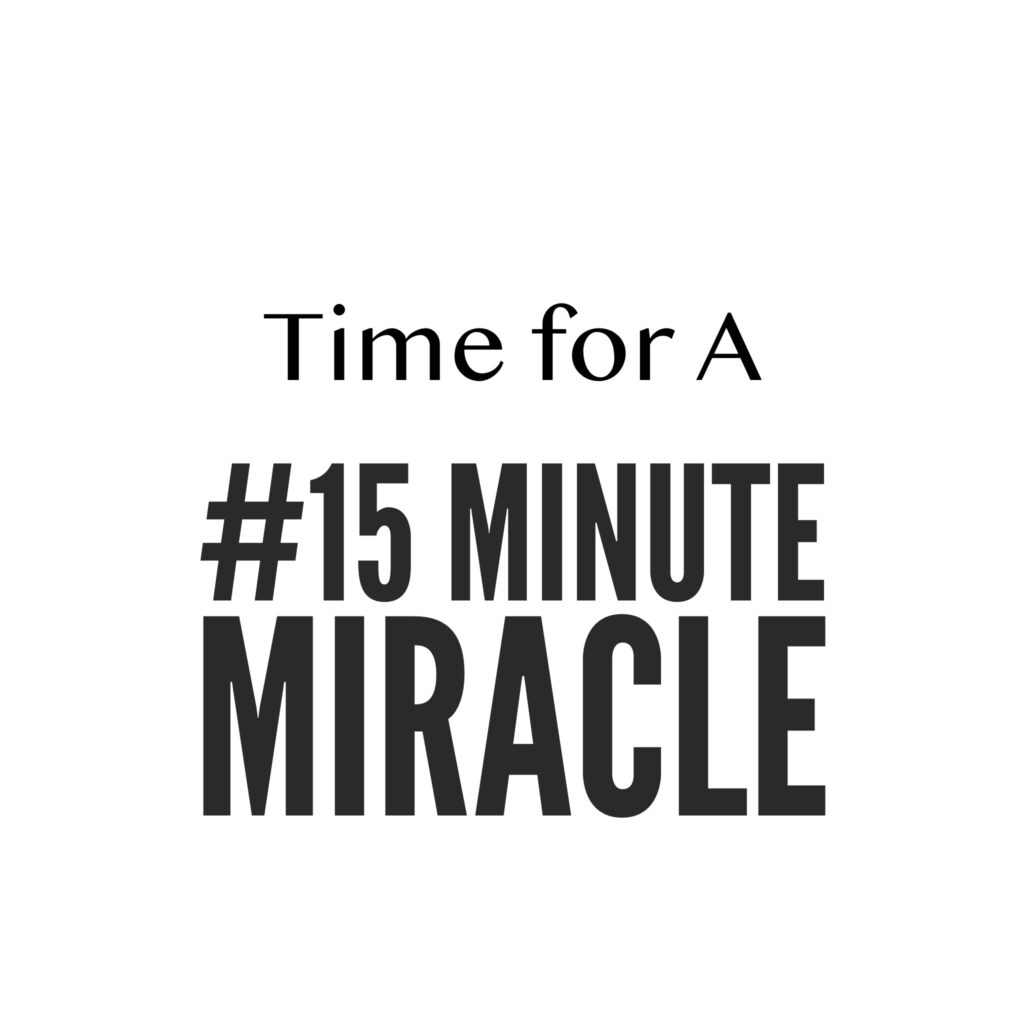 Enter the first #15minutemiracle process. You remember when you were little and if something could be disturbing an adult near you said "Don't look at that". One of my favorite lines in a movie is said to a teenager's parent who is chaperoning a teen's dance and she says to the other chaperone "Shouldn't we do inspections and walk around and…" and the experienced mom chaperon replies…"We are here to keep them safe, don't look at what you don't want to see, you cannot unsee it"
This is the warning;
"Don't look if you don't want to see" a truth that applies to chaperoning teenagers, facing change, or owning truths in your life" It's so much easier to live in the land of denial than to face yourself, and others with what is before you.
There is one sure measure in the Berry Family Life. One true beauty as Anne would say. If Sweetie is doing laundry, we're entering into the end times of something…in this case, of tolerance of renovations being a part of her existence with grace and patience. (cue dramatic music as the plot is thickening)
My first #15minutemiracle is akin to a surgeon prepping for surgery. A bath is drawn, candles lit, essential oils dripped in the water and put in a mister. Music is programmed and an outfit (typi8cally new, for by this time NOTHING, I mean NOTHING can be found clean)
The timer goes off and Sweetie celebrates (the celebrates matters) gathering up the courage (read, comforts, soon-to-be rewards) and sterilizing her very germy attitude by washing those irritations off by soaking in the bathtub for 15 minutes. (yes silly, the casual observers had to wait on the sectional. What kind of cottage do you think this is?)
The timer is set for the next #15minutemiracle and I take time to get dressed, put on makeup, dry my hair, splash cologne, and put on just a little more eyeliner wing than is necessary. Didn't you know liner and red lipstick is empowering? Facing a cottage. recently plagued by the rare interior Oklahoma twisters, (uh hum, that's my story and i'm sticking to it) knows that like a good hunter, she must carefully sneak up on that which. is known as the native cleaning bug.
The timer goes off, a miracle of miracles, she is dressed, made-up, and staged to "clean.that. cottage"(think sound of "move that bus" from HGTV. A celebration of 5 minutes includes an iced brew in a favorite cup and a picture of the as-spotless-as-it-can-be bathroom. Did you know that Cascade, or in my case Thieves dishwashing detergent, creates the shinest tub clean ever? It does! Learned that trick when I once bought jetted tubs from the manufacturer. So when I am blow drying and beautifying, I start with the leftover bath water and just.add.cleaner. The swirls and waves circulate while I'm getting ready in modern situations, but in 100year old baths, you. do something called "Swish and wipe".
It's kind of like seeing the scene "Dip and Flick" is taught in Legally Blonde. Anywho, by the time 5 minutes is over, or 5 minutes of "swish and wipe" is done with a good rough scrubber, the bathtub looks amazingly white, fresh, and sanitized again, a final rinse and it's now going to make raving fans of the non-judgemental observers who now believe in everyday miracles. They just witnessed one. Who knew?
Try it, my friends, set the intention for 15, and reward yourself for 5 minutes just for THINKING about the next tiny step. Turn off the should have, could have, guilties and the shammies…and play that funky music, classical, or Hamilton (personally there's something to the "I'm not throwing away my shot" is totally motivating, the words, the beat, the fun of the words" will lure me even on the fussiest of days, to get after it. (Lin Manuel knows the power of the beat) Thank God.
Cue timer went off again (see how fast that was) and "Wallah" the rest of the bathroom floor was swept and trash emptied. High five folks, this is such a blur you don't even know you did an extra wipe at the baseboards when the timer hadn't gone off yet.
Celebration time again. Except this time, a room is so much better that ten whole minutes of celebration is engaged. After all Hamilton is already on the phone playing around. Who can resist?
#15minutemiracle momentum now has transformed you from overwhelmed, resentful, ready-to-eat-your-family cannibal style to being infatuated with this amazing feat you just accomplished in less than 45 total minutes! (bonus, you are now dressed for any potential visitor who will assume this cleanup is part of the tragic storm that hit)) In just one storm you've gone from being the new rural neighbor who is tacky to the trendsetter for "windstorm yard looks complete with tarps". Wallah!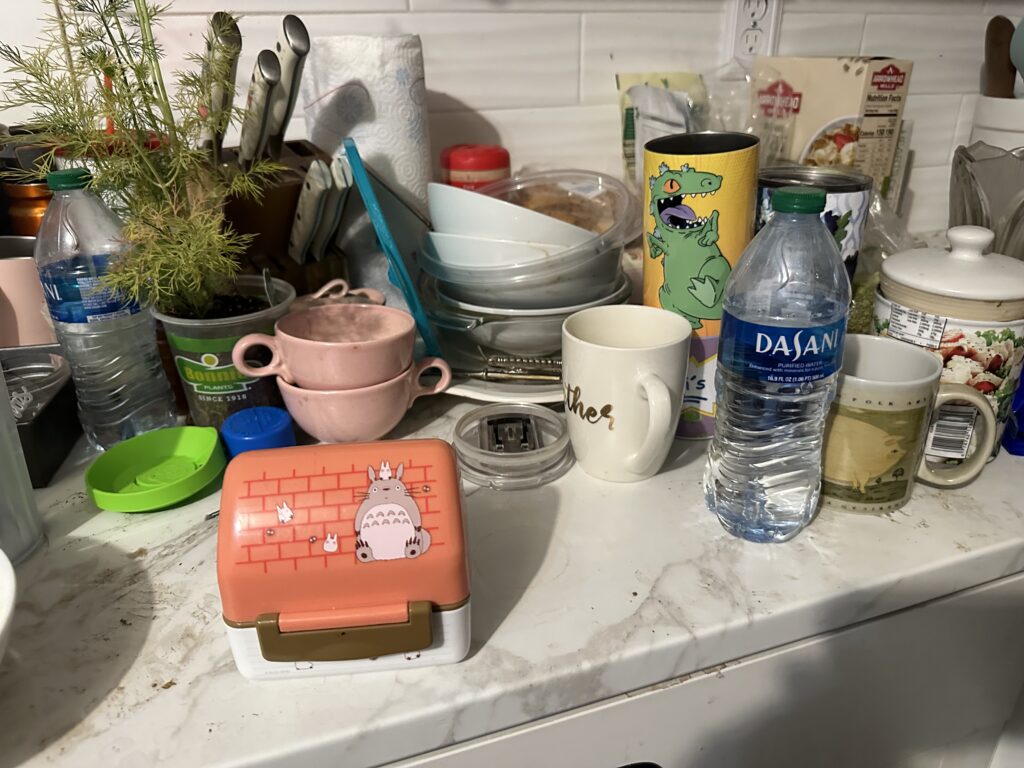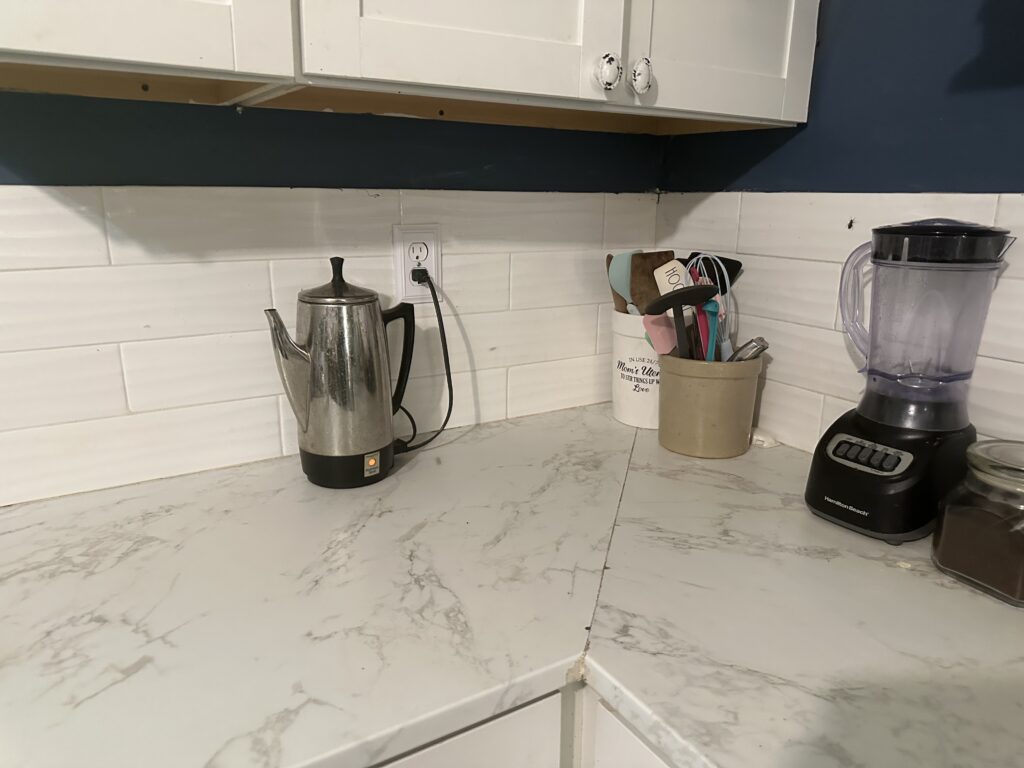 This is exactly how six hours of cleaning got done 15 minutes at a time. Before and after pictures are always encouraging if one focuses on a 2-foot by 2-foot area. lean into that moment of cleared the counter, folding laundry, and captured trash to its trashbag (after all it was a family reunion))
and THAT is how you get momentum for a Marvelous Monday. Is the cottage perfect after that 6 focused hours of cleaning, which was truly 9 total hours with breaks….after all with the storms blowing in, what else would Sweetie do with power out at all the retail therapy locations near. Warning: using a timer will dispel your belief that kitchen counters take 1,300,032 hours to clean. Personally, it took two, TWO fifteen-minute sessions to wash ALL the counters dirty dishes by hand. The first one was to spread out a towel on a temporary card table, gather gloves, dish soap, and a drying towel to put away as soon as dry. The second to do the washing
It's humbling and exciting at the same time when you realize that you can change the world fifteen focused minutes of action at a time.
You choose the subject, you choose the task, you choose the success you want to have, imagine the outcome you want, set the time for 15 minutes, and 'Wallah" you are on your way!